First-time home buyers worry a lot about financing, and who can blame them? Nearly 1 in 3 first-timers (29%) who eventually obtain a mortgage fail to get approval at least once while applying for financing.
Newbie buyers generally have a tougher go of it than repeat buyers, who are typically older and able to tap resources that may include proceeds from the sale of a home.
Still, what first-timers lack in experience and resources, they make up for in determination and a willingness to compromise, according to the Zillow Group Consumer Housing Trends Report 2018.
Here's how you can help smooth the way for these buyers.
Down payments: Help first-timers find financing programs
Coming up with the down payment is the biggest hurdle: 27% of first-time buyers say it was difficult or very difficult, compared with 19% of experienced buyers.
60% of first-timers put down less than 20% on their purchase and rely more heavily on savings than repeat buyers, who are nearly equally likely to tap savings and equity from the sale of a previous home.
21% of first-timers who obtain mortgages get down payment help in the form of gifts or loans from family and/or friends, and exactly half rely on two or more sources for their down payment.
Takeaway: Introduce first-timers to programs that provide down payment assistance or that cover some or all of the closing costs. Most states now offer first-time home-buyer programs, which typically award grants for down payment assistance as well as reduced interest rates. Let your buyers know about those programs, any local buyer incentives and information on larger national programs.
Mortgages: Encourage clients to get pre-qualified
First-timers are more likely to purchase with a mortgage (85% versus 69% of repeat buyers), which means that in addition to navigating the purchase, they're also making their way through the lending process for the first time.
More than half of first-time buyers (54%) contact two or more lenders, likely due to denial by a lender, worry or rate shopping. Nearly a third (28%) of first-timers say they're very concerned about obtaining a mortgage, and another 38% are somewhat concerned.
Takeaway: Encourage buyers to get pre-qualified before they begin looking. Brief them on the lending process and the documentation they'll likely need. In addition to suggesting they speak to their current bank or credit union, have several brokers you can recommend who are experienced with new buyers and familiar with first-time buyer loans and low-interest FHA loans.
Shopping for a home: Cast a wide net for first-time buyers
First-timers overwhelmingly prefer single-family homes, but they're more willing than repeat buyers to consider distressed homes, including foreclosures (25% versus 21%) and short sales (19% versus 14%), and they are more likely to say they hope to buy townhomes (13% versus 8%).
They're also more likely to make multiple offers (42% versus 34% of repeat buyers), and conduct more inspections (1.7 on average versus 1.2).
Asked to reflect on their home-buying experience, 22% of first-timers say they wish they'd allowed more time to look, while 16% say they wish they'd chosen a different way to finance their home; that's more than twice the rate of repeat buyers (7%).
Although most first-timers are happy with their purchase, 17% say they wish they'd chosen a different community.
Takeaway: Cast a wide net. Show first-time buyers different types of homes that meet their budget. Assure them that others have run into similar issues and managed to prevail. And don't forget to search in the price ranges just above and below what the consumer suggests. Knowledge of local FSBOs also will help to broaden the scope of the buyer's options.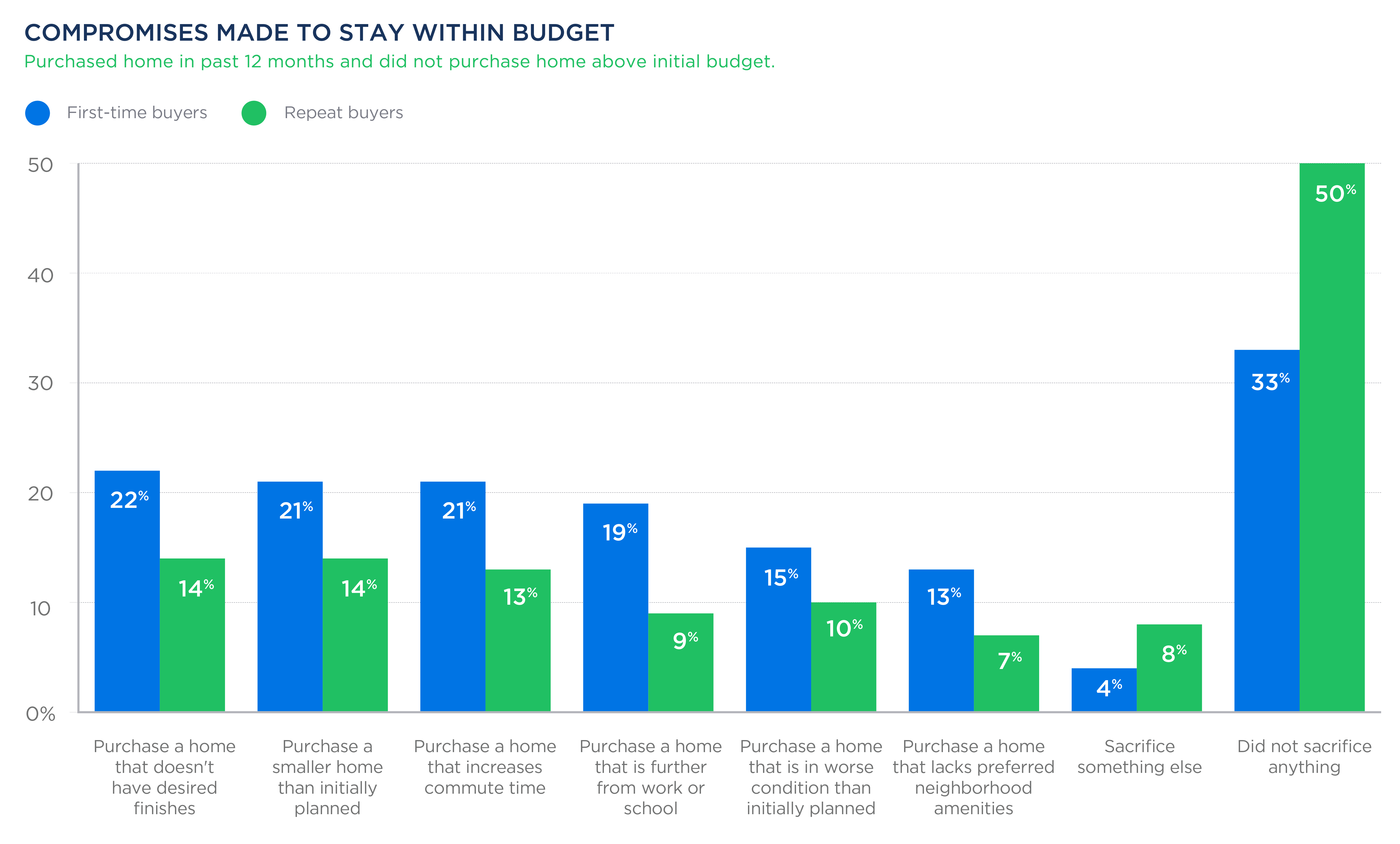 Article written by Susan Kelleher
Ben Stern

REALTOR ®
RE/MAX Prime Properties
407-595-8374


Sign up to our email/blog and receive a FREE package of great information; An exclusive BUYER and SELLER guide, PLUS two bonus Ebooks..
THE SLIGHT EDGE
and
REPROGRAMING YOUR MIND FOR SUCCESS
.. two great leadership books for those looking to be successful in real estate and in life.